Our recent series of Boyle Heights has uncovered many treasured gems–taking you from the Breed Street Shul, to Hollenbeck Park, to the Malabar Branch of Los Angeles' Public Library system.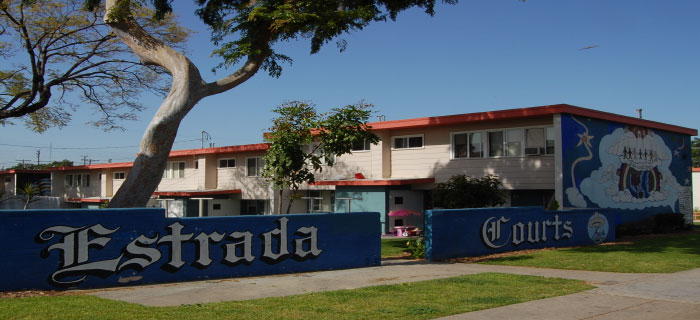 This enclave symbolizes our ephemeral place here, and simultaneously overwhelms us with its unsung role in shaping our understanding of how this particular neighborhood impacts our understanding of others; and enables us to "Walk a Mile in somebody else's Shoes," if but for a moment–hopefully for a lifetime.
Boyle Heights begets the requisite requirement and need to photograph and write about their public art–not just writing - but use elite writing with https://essayelites.com/ ,not just any public art–but amazing murals which have withstood the test of time–notwithstanding our bevy of taggers and masters of destruction. The Estrada Court's Public housing project is the home of numerous murals that first appeared in the early 1970s.
Often times when someone says the words "public housing," it's easy and lazy thinking that colors our collective brains with myopic visions of high rise "ghettos;"–to dirty, broken down buildings, and other things probably more myth than reality, but which also have elements of truth.
However, after finishing this story about Estrada Courts, the term which more easily comes to my mind is the concept of "home" and "family." As I walked around this special community, I saw clothes blowing in the wind on clotheslines, lunch being prepared on stoves, boys playing basketball, lawns being watered, and neatly manicured gardens. I felt like I was back in a small town again and the feeling was good.
Built in 1942-1943, Estrada Courts was one of three public housing projects built primarily for war industry workers, and after the War, for returning servicemen.
Aliso Village, one of the nation's first racially integrated public housing projects, and Pico Gardens, were the other two public housing projects.
By the 1990s, violent crime and gangs, had overridden all of the public housing projects, which was one of the reasons, both Aliso Village and Pico Gardens were demolished. New housing was built, but on a much smaller scale, thus leaving many people homeless.
Today's Estrada Courts, are low on crime, and high on family values, with flowers, kids playing, and barbecues cooking. Although there's violence associated in other areas, perhaps this enclave is less so due to its charm. One of the unique features of Estrada Courts is its public art murals. I originally went there thinking I would find 8 or 9 murals–instead there were about 40.
On almost every portion of its buildings and structures a colorful mural was my constant companion. Although, there's some blank walls, I look forward to returning to see what rainbow of colors were inserted during my absence.
Below is a visual presentation of the Estrada Murals in a slide show format. So enjoy its panache and beauty of color textured Murals that its various artists created. Several of these murals–almost exclusively painted by Mexican Americans–date back to the 1970s during the height of the Chicano Power struggle.
But art is part of a school of thought, and its reasons have its reasons. Art's ultimate aesthetic lies in its power to emote and to draw that emotion out from us and back into the object of our affection.
In that, these Murals are a part of Boyle Heights that welcomed us with a warm embrace, and which was only a matter of time for us to find so we could document and share their art with our readers. On a side note, surprisingly, many of the murals contain no tags, but as you'll note as well, some do. Then again, there's trash littering glistening streets in other parts of the city where it also doesn't belong. A few bad apples in the bunch don't spoil the entirety of what it contains.
Here's the Slide-Show of the Public Art at Estrada Courts
If you'd like to visit and see the murals, here's where they're located at Estrada Courts:

View Estrada Courts in a larger map