Although Los Angeles is famous for its "Hills;" Beverly, Hollywood, Holmby, etc., there are other parts of our City of Angeles that tell other stories. One such place is Ramona Gardens– the oldest public housing project in Los Angeles. Originally built in 1941 with four 2 story buildings, it now encompasses large interlocking streets of similar styled sections of colored townhouse style homes.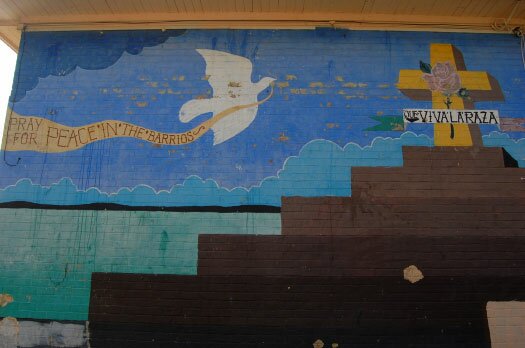 For many who call East Los Angeles home, they are proud of their area, and I'll say for the record that it has a natural and warm charm, both in its residents and its deep ingrained culture of hospitality. While this may seem at odds with the notorious gangs and gang-banging culture that has manifested, I remind my viewers that La Costa Nostra was born in the beautiful mountains and island of Sicily—point being is that one has nothing to do with another, or can be separated in how one views and understands modern day urban areas.
Spending several hours walking around the home turf of the Big Hazards street gang, better known as Ramona Gardens, I didn't feel in danger. People greeted me, said "Hello,", and asked about my camera. I smiled back and greeted them in return and told them how beautiful the murals are, and that's why I was there.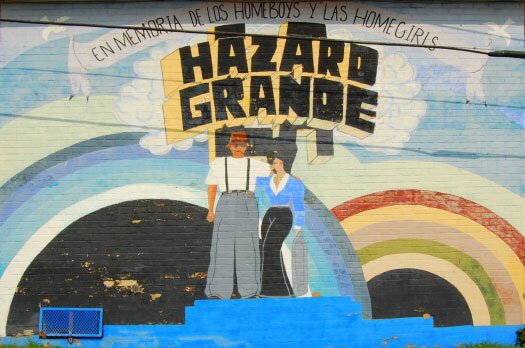 You might be asking yourself, how murals could that be an important part of a community. Ramona Gardens is one the first places public murals became part of a neighborhoods culture and literally and figuratively came to life as a force for its residents. Starting in 1973, and completed in 1977, the majority of the murals were created, envisioned, and painted by the residents of Ramona Gardens with the help of the Mechicano Arts Center.
These amazing murals tell the story of a people; their culture, their beliefs, their thoughts, and their dreams. Each mural celebrates the human spirit.
Community arts basically are just the spiritual uplifting of the people, the masses of people that are downtrodden right now. The minority communities are spiritually dead and I think our main goal is to awaken them spiritually to the point where they can become politically conscious of their environment and what's happening to them and their lifestyle and hopefully to stimulate them to do something about their condition. I think basically that's what community arts is. It's a tool for social change. It's a tool for community development, which is social change. I can't see any other reason for community arts.  Quote by Victor Franco founder of the Mechicano Arts Center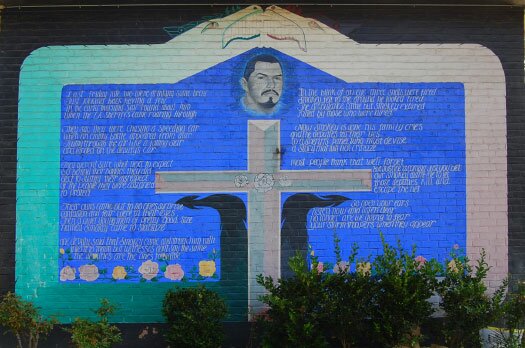 Although Ramona Gardens has seen its share of violence, it's currently home to hundreds of people, many of its homes are replete with rose gardens, clotheslines, children playing, and hopes for the future. It has a community feel to it that I haven't felt in any other community I've recently walked through. It's a paradox—the violence and danger and the natural warmth of a neighborhood and its people.

Today, the community arts program is alive and well in Ramona Gardens. Pictured above, a new mural, entitled "Art Heals," was dedicated to all of the mothers, grandmothers, sisters, wives and daughters of Ramona Gardens, where public art is thriving. Located at the Ramona Gardens Recreation Center, "Art Heals" was painted by renowned local artists, Joseph Montalvo, Raul Gonzalez and Ricardo Estrada, with the help of community members.
Being a resident here, it's unfortunately a common experience to notice that many building, points and objects of interest, and public murals have been "tagged.," Tagging is the public act of signing a wall with a "signature," often done by gang members.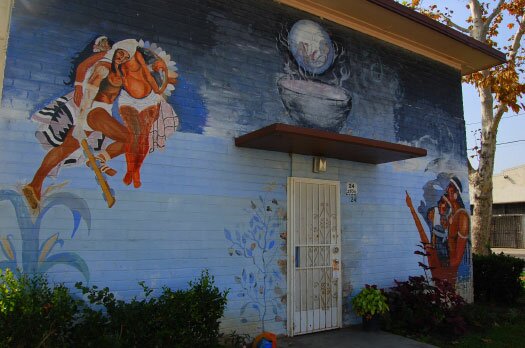 According to "Boxer," a gentleman I met while taking these photos, the community teaches those inclined to "tag," and people like myself, what the murals mean, why they are there, and the important message they send. A shout out to Boxer because at Ramona Gardens, even though most of these murals have been around for decades, most have never been tagged.
In addition, Boxer, who has lived in the area for over 40 years, was involved in the 70s mural project, and he has kept in touch with many of his fellow artists involved. So, if an issue comes up with one of the murals, the artist is contacted and will sacrifice his or her time to fix and update the mural.
Often times, the solution for tagged murals is to just paint over them, but this means the muralist has no chance to reclaim his or her work. Given the chance, most artists want to restore their art.
For me, walking around this neighborhood was seeing a small town in the big city. And that's what makes living in and Travelin' Local in Los Angeles unique—one moment we're exposed to one ethnicity and unique aspect of a community, when down the block there's a whole different vibe and cultural infrastructure. If you're interested in walking a similar path, here's the map and additional photos so you'll get an idea of where to go:
And that's what makes Los Angeles a world-class and exciting city to live in.